Gigi asked, begged, pleaded. "Please take me to Doggy Day Care today" Mom said "No" "I just don't have time to take you"
Gigi's mom then left. She had an awful day with all kinds of trouble, a serious car accident that husband was involved in, as well as all kinds of other downers.
Gigi on the other hand, Made the most of the day.
Black is the New White.......
Allred checks out todays goodies. It is Max's 1st Birthday and his family sent party food. Luckily My Vickie caught Allred before he got into the cupcakes.
Max's human Sister Siera made the cupcakes herself and she did a good good job.
My Vickie was worried the Mr. Short Legs James Dean wouldn't have a chance competing with the rest of us so he got a head start.
Then My Vickie went out and hid all the cupcakes through out the front area and we were all set loose at the same time. Of course, I found the most of them, but she made me share anyway.
So here is the Birthday boy sitting next to me. He sure is a good lookin little guy, isn't he?
Gunny was one of many guests and we would love to show you pictures of everyong but that would make for a really long blog so we picked our favorite pictures and this one was the winner. Gunny is always grinning and My Vickie felt she had captured all our moods with this photo. FUN FUN FUN
It wore out the youngest of the group, who came in and slept all afternoon. Ahhh, Puppies are so cute, don't ya think so Ryker?
After the party My Vickie and I took a walk and found a fun waterfall to play in.
It was like the, PERFECT day....
Now before I go, I just want to help spread the word that my buddy Ryker is working on.
Ryker Rules
If you go to his page you can join the blog hop supporting the 100 bowls of food.
FYI I had to go into Google Chrome to sign up for this blog hop......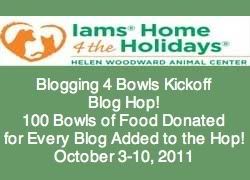 Tons of love comin your way